A Level History
Course Information
History captivates the imagination with tales of our turbulent past while explaining how the current world has evolved. Only through studying past events can we hope to understand the political, economic and social problems of our world today. History evokes curiosity and develops enquiring minds. It stimulates debate and challenges orthodoxy.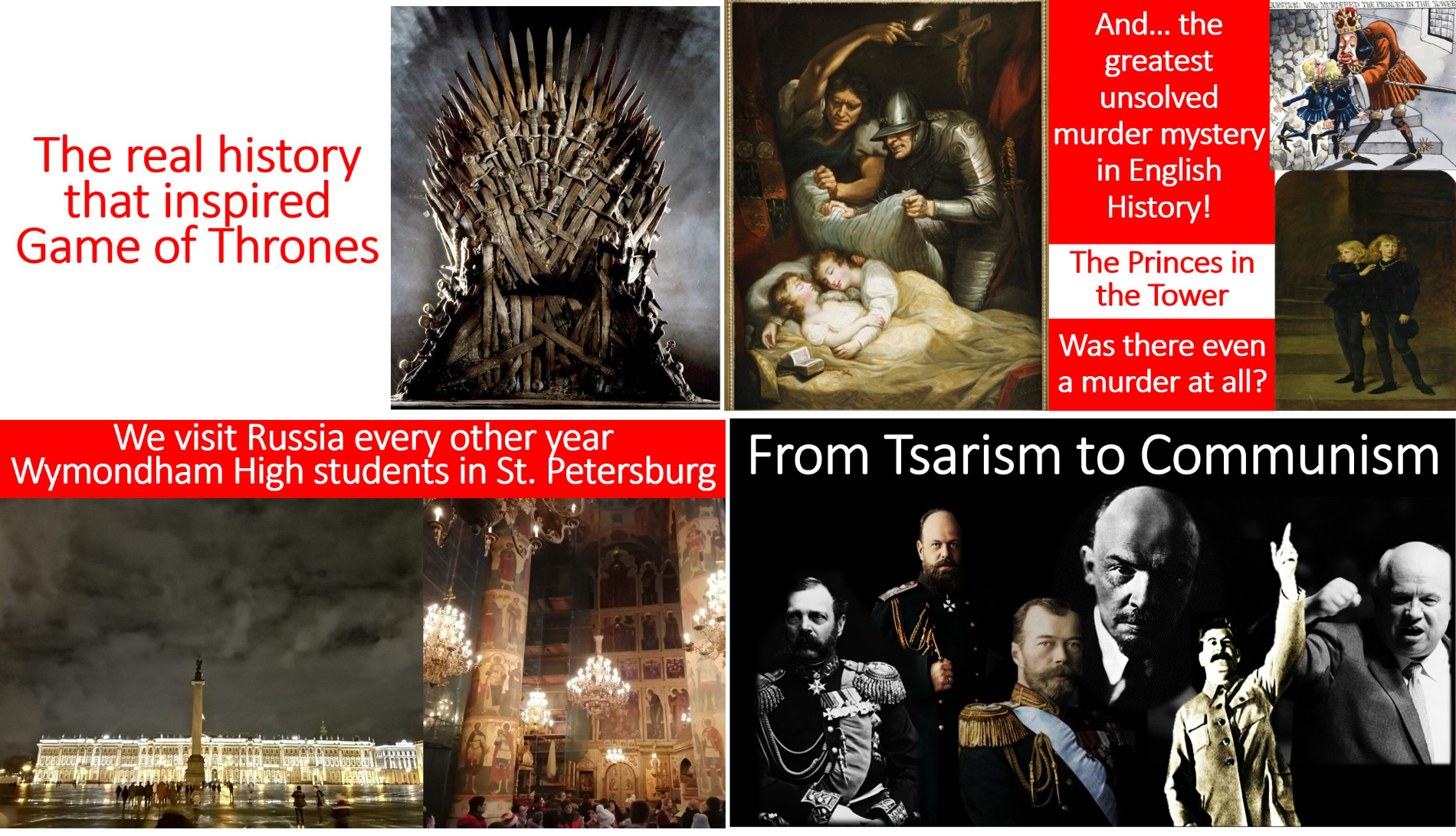 We teach the following AQA A-level components:
Tsarist and Communist Russia, 1855 – 1964 This topic takes Russia from the imperial heights of Tsarist autocracy, through the Russian revolutions of 1917 and into Communism. It includes a comprehensive study of the last three Romanovs, Lenin and Stalin. It is an extraordinary hundred years of History in an intriguing and controversial country that still divides opinion today. Churchill described Russia as a riddle wrapped in a mystery inside an enigma.
The Wars of the Roses, 1437 – 1487 This topic explores the explosive end to Medieval England. It is a dynastic struggle for the throne which has at its core a dynamic and destructive family 'soap opera' with some of the most exciting, flamboyant and controversial characters in our rich History such as Margaret of Anjou, Warwick the Kingmaker and Richard III. The A-Level is assessed with two 2½ hour exams at the end of Year 13 worth 80% and a Historical Investigation (c. 3,000 word essay on some aspect of Britain 1820 1950) worth 20%. Both studied topics incorporate exciting residential trips.
Career opportunities
History is a subject which compels students to think and captivates inquisitive minds. It is therefore an extremely prized subject for all the leading Universities and its inherent analytical and communication skills are greatly valued by all future employers.
Entry requirements
The course is perfect for those students who have an interest in and passion for the subject. It is preferable, but not essential, to have studied History at GCSE. We would be looking for a grade 6 or higher in History or subjects involving the construction of a reasoned argument and work with primary source materials. An ability to write in a logical and coherent style would be a distinct advantage.
Sixth_Form/6th_form_open_evening_presentation_1.pdf
Sixth_Form/open_evening_postcard.pdf
/docs/2023/Sixth_Form/Induction_document.docx
Longterm Curriculum Learning Plan - History